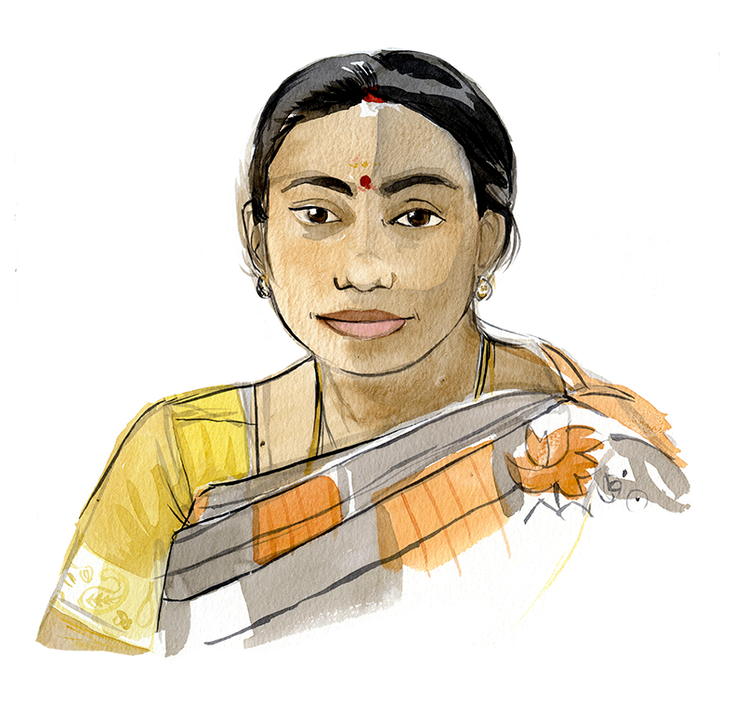 Before leaving Pondicherry, I spend a moment with Adileakshmi, the third cleaning lady. She speaks English, we can stay alone.
«You know, before you start asking me questions, I would like to say thank you for this memorable day. This moment that we share today will stay in my mind, even in many years. So, it seems important to thank you.
I have 42 years old. I got married late: I was 25 years old. I wanted to make a marriage of love and for that, you need patience. In the meantime, I was working in an anti-mosquito factory, to be independent. Then I met Paleanikumar and I married him. Look at this picture, we just got married and I was already pregnant with my daughter. I was so happy when I left the factory to take care of her. Today, she is my only child. She is 17 years old and she wants to become a doctor. Are you married? Do you have children?»
No.
So, behind the stairwell of the hotel, close to the three plaster deities, we simply speak about love. Adileakshmi wants to understand why I am single. I explain that sometimes the feelings fade, and that in France the exit door is so easy to pass that staying in a couple with someone becomes rare. She tells me that I should not worry and take my time: I sould observe around me and choose the best man. When I tell her that staying alone gives some advantages, she looks sad and whisper that this is not a good idea. I answer that it depends on the days. We laugh for a moment and we feel that we understand each other.
When we separate, Adileakshmi wants to me promise that I will never forget her.