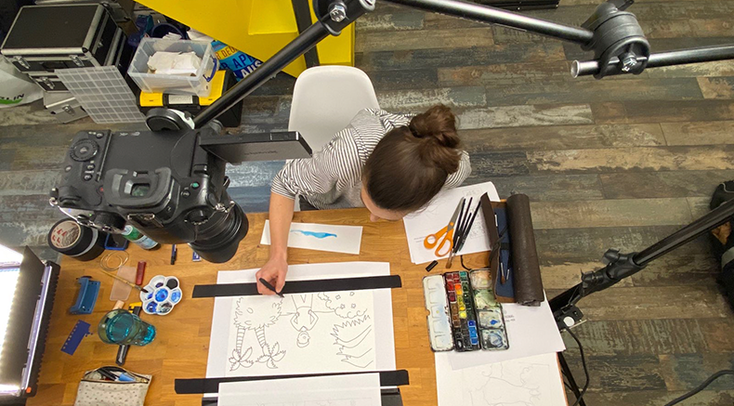 Draw my life consists of drawing the content of a text by synchronizing it with a voiceover. This practice makes it possible to quickly obtain a dynamic video.
Once in possession of the scenario, I realize the storyboard of the film. Then, I draws it in a studio on a paper, a Veleda painting or a computer with touch screen (according to the choice of the technique, one sees or not my hand moving).
Examples of realisations

Series of videos explaining in-house training at Guerlain
.

A CITIZEN UNIVERSE: EXPLAINING THE PRINCIPLE OF MIGRATION
EXPLAINING GLOBAL WARMING
Two new movies, wix of live drawing and StopMotion, the films explain the phenomenon of global warming. See the two videos.

COMMENT SE DÉBARRASSER DES CLICHÉS ET DES IDÉES REÇUES ?*
*HOW TO LAUNCH COMMON MISCONCEPTION ?
Here is a new series of 5 Draw my life videos made for the ANCIC (National Association of IVG and Contraception Centers) with Egraine. These films were created to assist speakers who come in high schools to explain contraception. SEE THE 5 VIDEOS

Notre coeur fait Boon
Movie made with the team of NEW for Dany Boon and Valérie Bonneton

ACF, LA COURSE SOLIDAIRE
Two movie in Draw my life made with the agency Egraine d'image for the ACF (Action Contre la Faim), with ink and watercolor. See the two movies.

ET MAINTENANT, ON FAIT QUOI ?
Movie made with the agency YesSir for the Conservatoire du littoral, with ink and watercolor


JUSTE ZOÉ
Movie made with a Draw my life on a computer with touch screen:

Movies made with Veleda felt (L'Oreal, Fonso, Macif).
(These films are intended for in-house broadcast, I can not submit a video link on my site).